AIR JET SIEVE
Air Jet Sieve is a particle size analysis sieving machine for laboratory use. It works on air jet sieve method and is used to perform sieve analysis. Being widely used in micron particle sieving air jet sieve method has become a standard test sieve shaker in the lab. AimSizer manufacture HMK-200 Economic Air Jet Sieve No.051098 and HMK-200 Intelligent Air Jet Sieve No.051598. Both are proper replacement of HOSOKAWA Alpine air jet sieve such as MAJS air jet sieve, Alpine air jet sieve, Micron air jet sieve, 200LS-N air jet sieve or e200LS air jet sieve.
HMK-200 air jet sieve conforms to:
ISO 4610 Plastics -- Vinyl chloride homopolymer and copolymer resins -- Sieve analysis using air-jet sieve apparatus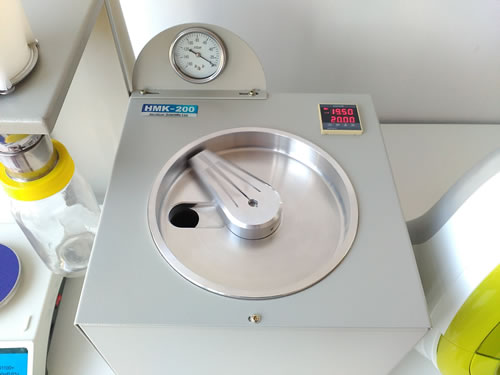 HMK-200 Economic Air Jet Sieve (P/N.051098)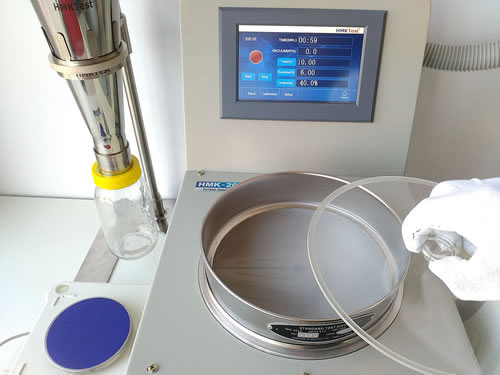 HMK-200 Intelligent Air Jet Sieve (P/N.051598)
HMK-200 Air Jet Sieve features high performance and reliable test results. It is in fact a test sieve shaker designed for particle size sieve analysis on particles from 5 micometer up to 5,000 micrometer.
The test procedure is optimized by a timer up to 99 minutes which saves operator's much time. Compact elegance and light weight make it easy to move in the lab. HMK-200 air jet sieve is a true analytical sieve shaker for laboratory use.
HMK-200 micron air jet sieve can do air jet sieving with an optional HMK-20 Air Jet Sieve Cyclone Sample Collector to collect undersize sample in a laboratory bottle, HMK-20 works with efficiency as accurate as 99.99%. A transparent lid contributes to a simple and intuitive operation. HMK-200 air jet sieve uses a vacuum to generate negative pressure under a lab test sieve and the particles are effectively separated by strong jet of air. The diameter of the sieving tank is 200 mm(8") designed for 200 mm standard test sieve. Smaller test sieves are also workable with HMK-200 air jet sieve sizes by a customized tank.
In addition to sieving normal samples, HMK-200 suits powdered materials that require particular dispersion and disagglomeration operations. HMK-200 air jet sieve is an effective analysis sieving machine working on the same principle of Alpine Air Jet Sieve. HMK-200 is in fact a micron air jet sieve, it's working range is micron range 5 mirometer up to 5,000 micrometer.
PICTURERS
DATASHEET
Specifications
- Nozzle Rotation: 35 rpm adjustable
- Nozzle Type: 2 mm
- Sieving Time: Timed set up to 99m 59s
- Dimensions: W35xD35xH35cm
- Power: 220V/110V 50/60Hz 25W
- Weight: 11.8Kg
- Sieving Range: 5 to 5,000 micron
- Sample Size: 0.1 to 2,000 grams
Features
- More efficient than mechanical test sieve shaker
- Disagglomerate particles effectively with air turbine
- Operating with international standard 200 mm standard test sieves
- Save sieving time
- Suits particles from as small as 5 um up to 5,000 um
- Safe operation
- Small in size
- Timed control from 99m 59s to zero
- Patented air nozzle generates turbine inside and clean tank simultaneously
Applications
- Ceramics,Chemical products,Cinnamon,Cork,Cosmetics,Dental ceramics
- Face powder,Flour,Food,Gypsum,Limestone,Minerals
- Pharmaceutical materials,Pigments,Plastics,owder coating,Rubber,Sandstone,
- Soy flour,Sugar,Tea,Toner,Washing powder,General industrial etc.
DEMO VIDEO
AIR JET SIEVE NEWS